Apologies for not posting more over break, but March Madness has consumed me as it does every year.
Starting last Friday I just went into a basketball-induced stupor, with only time taken to hang out with family and friends bringing me out of it.
As always, it's been a relaxing and uneventful break at home, which is just how I like it.
While I certainly would enjoy being down somewhere warm for a week with a few thousand drunken coeds, it would be a bit pricey and probably put me in a position where I needed a break from break.
Plus, would I have 65 inches of HDTivo and DirecTV's Mega March Madness package?
Of course not, and that – whether this makes me shallow, ignorant, low-cultured, not fun or simply sad – brings me as much joy as anything.
Due to the stress of March Madness and all the literature needed to maintain an above-normal knowledge of it, I fell behind in my other daily readings. I don't know any major world events of the last couple of days, I'm behind on any television show I watch that's a hour long, I'm completely out of touch with politics and I recent discovered that 300 – which everyone seems to enjoy – made seventy million dollars.
(That's probably the worst part of coming home. I've had multiple people recommend Wild Hogs to me – no, seriously, they have, and yes, that Wild Hogs ­­– and it's weird to be in an enclave where Obama might not be able to win simply because of the color of his skin. As much as I love coming home to visit, I would literally go insane here if I didn't have those close to me/if I had to live here.)
I actually had a rather elaborate post concocted about the upcoming summer, senior year and beyond, but it was disgustingly emo and I just scrapped the whole thing after initially posting it. If something was going to be hanging at the top of the page because I was too lazy to update, I'd like it to be something like this: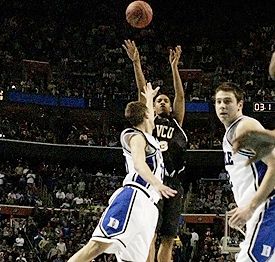 So if I get time this weekend and Winthrop doesn't break my heart, expect another update. I think I want to talk about Buffy (the tenth anniversary of the series premiere was last Saturday) and why Christina Aguilera deserves some sort of award for both survival and pop music dominance with the demise of Britney, Jessica and the rest of her competition. Happy Friday.