I'm a little rusty at this, so please excuse the countless typos, grammatical errors and redundant statements that are about to unfold in front of you...
And just like that, we're at the end of the semester.
Three class days left, folks, and then it'll be all with the people in Europe and no football games and slippery slope until we're seniors and I want to just curl up into the fetal position and weep for joy and a fear so deep of the real world I don't even want to think about it right now.
(And by real world, I mean Real World, as in "If Real World: Denver turns into the Alex and Colie show, ala Melinda and Danny in Austin and Ace and whateverhernamewas from Paris, I'm going to be tuned out by January." More on this later.)
I'm not sure where to rank this semester. The football season had some high points, and then some twenty-point lows, and the added variable of Tommy/Paul and Christina/Katie out at TC made up for the fact they took our beautiful, beautiful bar away. My classes were a mix of totally and fantastically awesome and "Bleh, I hope I get my B+ and can move on". For the lone semester of junior year when most everyone was here – with a few exceptions of evil traitors who defected across oceans during football season and the only part of the year where South Bend is meteorologically tolerable – it wasn't a great success, but I liiiiked.
This site took a nosedive to the work over at Rakes, and for that, I apologize. But honestly, I wasn't qualified to be talking about most of the stuff I used to. Between RecSports, The Observer, class and having to read hundreds of words on college football per day just to stay on top of things, I only made it to a handful of movies (although really, more than I usually do while at school), had my television watching limited to a half dozen shows (which still sounds like a lot, but hey, it's me) and haven't got to follow the NFL like I used to (which isn't my fault, since I'm sans Sunday Ticket).
But I'm back now, fingers crossed and totally for true. Considering the academic hell that this past week was, the next twelve days are going to be comparatively smooth. I'll take requests for whatever anyone wants me to write about. I'll rent movies, marathon your favorite television show and you know you're going to get hundreds of words on your 2006 Pittsburgh Steelers, defending (totally legitimate, without the aid of an absurdly easy path or the referees) Super Bowl Champs! I'm back, baby, since college football's dark period and the upcoming semester break leave me with all sorts of beautiful time.
Let's walk, shall we?
*
SUGAR BOWL SUGAR BOWL SUGAR BOWL SUGAR BOWL.
I couldn't be more geeked for New Years in New Orleans.

JaMarcus Russell: Someone took a defensive end, attached a rocket launcher to his arm and sent him to destroy the Irish.
Plane ticket? Check. Hotel? Check. Heavy underdogs against a team that reeks of heinous, obnoxious speed at every position? Check. The Irish go into this game with literally nothing to lose, having already been pasted by the Wolverines and Trojans, so that means everybody wins:
It's a four-day period of no consequence! With the French Quarter! And newly minted 21ness! I'm going to be absolutely, 100% totally broke by the time I arrive in DC in the middle of January, and I couldn't be more thrilled about that.
(There's also rumors of riverboat gambling, and if they prove to be true? Yikes…)
(Also, speaking of DC, I ended up getting an internship with Meet The Press. I'm pretty sure that's going to involve getting up at like three in the morning every Sunday, so huzzah! The Wizards never got back to me, and because of that, I'll forever be somewhat judgmental of Agent Zero for the rest of his career. It's sad, but I am vindictive.)
*
I made a brief little rant on The Real World earlier, but I do that only because I know it can be good. Key West was pretty damn good. San Diego was definitely tolerable, with a bevy of high points. Las Vegas was decent until Trishelle's STDs fogged up the cameras. Denver has potential, but if every episode revolves around drunk Alex, his weird alternate personalities and Colie, who's hot, but after countless close-ups on her face, you start to think there's something wrong, then I'll be very upset. I'm not sure if it's a Katie Holmes stroke victim facial tic, or just something disproportionate, but it's awkward after two episodes.
Still, her waking up to find her new favorite boy toy and her roommate's pizza burning in the oven while they hook up in the guest bedroom? That's a fantastic opening episode, but the first ones always are great. It's the consistency that's hard to keep.
Chad's sorta the expert on the series, and we both agree that the house is way too big. Has there always been a guest room? I remember Austin had that hidden editing studio, but nothing like a freaking Jeep bar. If they get over this Colie/Alex thing earlier, leaving us more time for the rest of the roommates to play a role. When the show revolves around only one or two characters, and those one or two characters are annoying/mildly retarded, then it doesn't work. Here's hoping we can make it two good Real World seasons in a row.
*
Movie bits from the last month, quick-as-possible.
Marie Antoinette: Very shiny, but any film shot in Versailles should be shiny. Loved the modern songs on the soundtrack – "I Want Candy" was perfect for the overindulging – but honestly, Sofia Coppola doesn't know how to end a movie. If you're rusty on your French history, you'd literally have no idea what was going on outside Versailles, because there's only two references to helping the American cause and then wham, there's affairs and riots and it's over. Also, Kirsten Dunst has to portray a fourteen year old to start. That goes about as well as you'd think it would.
Borat: What can I say that hasn't already been said? It's one hundred percent absurdity, but the brevity of the movie means that it doesn't ever go too flat. A lot of people say it's not as good as the show, but I think that might be somewhat obvious, since there's a big difference between five minute segments and a ninety-minute feature. Still, there aren't many opening night experiences that'll compare to the packed house for Borat, with the diverse demographic of people all dying as the nude wrestling scene unfolded. I don't know how it will hold up on repeated viewings, but for one time through, it was awesome.
The Prestige: So incredibly dark, but definitely worthwhile. The Christian Bale/Christopher Nolan/Michael Caine trio can definitely be one of the more productive in cinema, as this makes two straight great movies. There are two twists at the end, both which struck me as unfair upon first viewing. After letting it sink in, one half of it is really well worked out and the other one just requires a leap of faith in the storyline and a total lapse in believability. Hugh Jackman also rocks the house while Scarlett Johansson does her usual, which is look pretty and not really add anything to the movie other than that.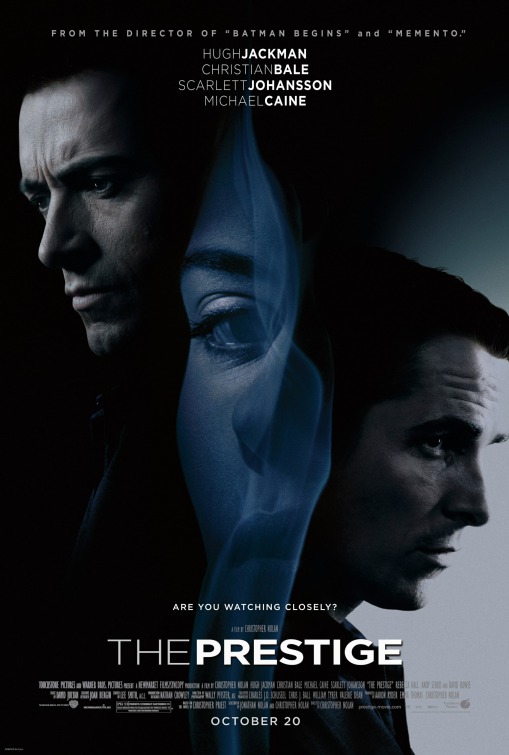 Casino Royale: A little bit lengthy, but a great return to classic Bond. Daniel Craig was, as predicted on this site the minute he was named the new 007, fantastic in the role. Of course, any movie that features fancy suits, extended poker scenes and a freestyle-run chase scene through a construction site. My only gripe? No sweet action scene with the James Bond theme playing over it, although I guess they figure Craig has to earn that honor. Also, it seems that many ladies considered Craig to be "mad hott" in the role. Australian females agree.

That's right, I called it from the beginning. He was awesome. Trust.
*
I'll get into this a little bit later, but with Scrubs back on television and firing at all cylinders and How I Met Your Mother banging out fantastic episodes week after week, The Office needs to do some work if it wants to stay the best comedy on television. I've been less than enamored with this season, and the huge cast is meaning less of some good things (Dwight in the last episode). Still, Ed Helms and Rashida Jones have been great, as well as the expanded role given to Kevin and Crede. Season two was a triumph in great television, while season three has just been really funny.
(Also, how does anyone support Pam in the Team Pam vs. Team Karen battle? I love the character and I adore Jenna Fischer, but she had at least three opportunities – on the Booze Cruise and twice during "Casino Night" – to get Jim. She screwed it up. Now, if she wants to earn him back, I'm all for it, but nothing should be given in this situation.
*
Just as the Steelers were all but eliminated from playoff contention last week after getting drubbed the Ravens, the Dolphins slim playoff hopes were extinguished with a loss to the Jaguars yesterday. Ronnie Brown was hurt and the two problems that plagued the team all year – offensive line and secondary play – reared their ugly head again. I'm going to start rooting for football teams that have great secondaries and quality offensive lines, just for the change of pace.
*
I don't usually have time during the semester to read anything that isn't assigned, but during our Niagara trip over Thanksgiving break, I plowed through Michael Lewis' latest, The Blind Side. What a totally fantastic book, as it takes a highfalutin concept for football – the evolution of offensive line play to account for the increased speed of pass rushers - and then applies a great story of charity, redemption and a first chance for someone who wouldn't normally get it. Highly recommend it for your Christmas break reading, even if you only have a slight interest in football.
Maybe the best part of the book? Michael Ohler, the behemoth high school senior being heavily recruited to play left tackle, gets visits from the likes of Nick Saban, Phil Fulmer and Ed Orgeron. Reading about the different styles applied by each man was a joy, and let's just say I'm happy the Phins are under the steady, smooth hand of Saban. If someone went and talked to a lot of top high school recruits and their families about their experiences with college head coaches, then wrote a book about it, what sports fan wouldn't read it? Yeah, it might depress you to see how much money is actually spent in wooing seventeen year old boys, but that be a helluva read.
*
We're going to get into some Christmasy stuff very, very, very soon, so fear not. I'm going to start keeping track of links again, and you'll have something to help you procrastinate during finals. I promise.
Also wanted to give major love to the women's soccer team, who despite losing yesterday in the championship game 2-1, gave the university a fantastic season of dominance. They went a month
without allowing a goal.
A sad ending shouldn't tarnish what was a great campaign, although ESPN's announcers did their best to make everyone forget Notre Dame was actually playing in the game. They should have at least let me and somebody who understood soccer broadcast the second half for the legitimacy of equal homerism.